Colour of the Journey – Exhibition
November 23, 2017

Categories:

Tags:
"Do not be amazed that I paint with my mouth but enjoy and appreciate my artworks" 
Colour of the Journey is a reflection of life, beauty and art. The artworks consider the artist's lived experience in Australia, the beauty of Adelaide, and the independence and freedom to move using a wheelchair. The exhibition features Faisal's advocacy for the rights of people with disability in Indonesia and around the world.
Faisal Rusdi is a Mouth Painter, his passion is disability rights and arts advocacy. He is a member of the Association of Mouth and Foot Painting Artists
On arrival in Adelaide, he was hoping to gain as much as experience in arts, to join, to collaborate, to participate as much as possible and to show solo paintings in Adelaide, this journey proved to be a little more difficult than expected.
Finally, Faisal met Stefan Maguran, an outsider artist who supported a link to the City of West Torrens. For this connection Faisal is very grateful.
For this solo exhibition, Faisal produced 19 recent works in less than 4 months. Faisal works as a realist and uses combination of impressionism and pointillism in oil media.
Granite Island
The painting is realist and detailed. It is a reflection of the artist's trip to a natural place in his wheelchair. One of the artist's favourite places as he feels nature, the breeze from the ocean; the granite and the sky. The wonderful experience of reaching Victor Harbour by bus, crossing over the bridge in Victor Harbour in his wheelchair accompanied by his wife. The experience represents enjoyment, freedom and the independence of being in a wheelchair living in Adelaide. He appreciates the opportunity which many people with disability cannot enjoy.
This solo exhibition is dedicated to two special people who have passed away. His beloved father who was a passionate supporter and took him to art classes; his teacher who had taught him since he was 16 years old.
Special thanks to Cucu Saidah Faisal's wife, Stefan Maguran, the City of West Torrens, Inda Peduli and Gadhon Arcadia
Faisal wishes to organise more solo exhibitions and collaborative works with Australian artists with disabilities.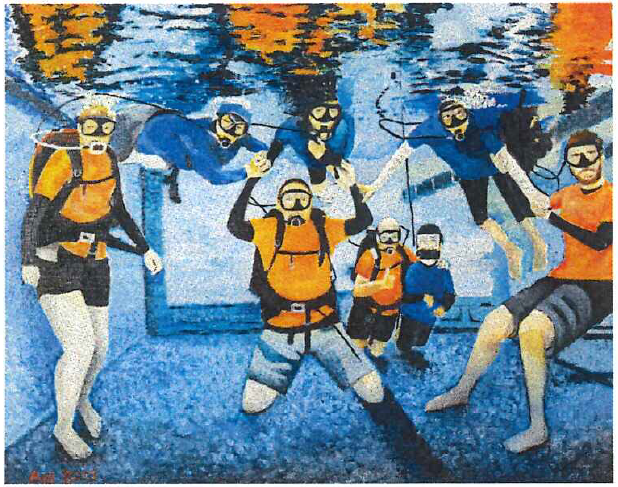 The Outsiders' Festival
Words from Stefan Maguran the outsider:
The Outsiders' Festival at it's 9th edition has decided to offer a solo show to Faisal Rusdi, an outsider.
Faisal is from Indonesia. He has the ability to capture so beautifully the Australian light. Faisal has the ability to paint using his mouth. I admire Faisal's determination to live a fulfilled life, his love of life, his excitement when going snowboarding or immersion therapy (scuba diving in the swimming pool) or climbing mount Wellington. I love Faisal's choice of recognisable landmarks for his paintings and his extraordinary ability to paint in such a lively manner.
The exhibition includes 21 paintings and I would strongly recommend you to look at each painting and admire the light and the beauty of the work. I would strongly encourage you to enrich your life by buying his work. We are so blessed to have the privilege of seeing such talent and beauty.
Collaboration and Celebration
In the final week of the exhibition Faisal's work will be joined by the work of local outsider artists who have been supported by Community Bridging Services. This will honour and celebrate cross cultural collaboration and mark the International Day of People with Disability.